The 25 cm Rose Flower Teddy Bear
Prove that you love each other!
Rose Bear is a unique gift that is on a completely different level. Each piece is exceptional, delicate and handmade. The bear is 25 cm tall, made of more than 250 roses and is very pleasant to the touch. We make our bears ourselves and focus on the highest possible quality. It is the quality of the material and perfect handwork that give our rose bears an irresistible charm. They are safe and do not cause allergies. The teddy bear does not need to worry and will make its owner happy for all eternity. It is an ideal and original gift for every occasion. Perfect for Valentine's Day, International Women's Day, birthdays, weddings and other special moments.
Recommendations for an even longer lifetime - do not leave Rose Bears exposed to direct sunlight for long periods and handle with care.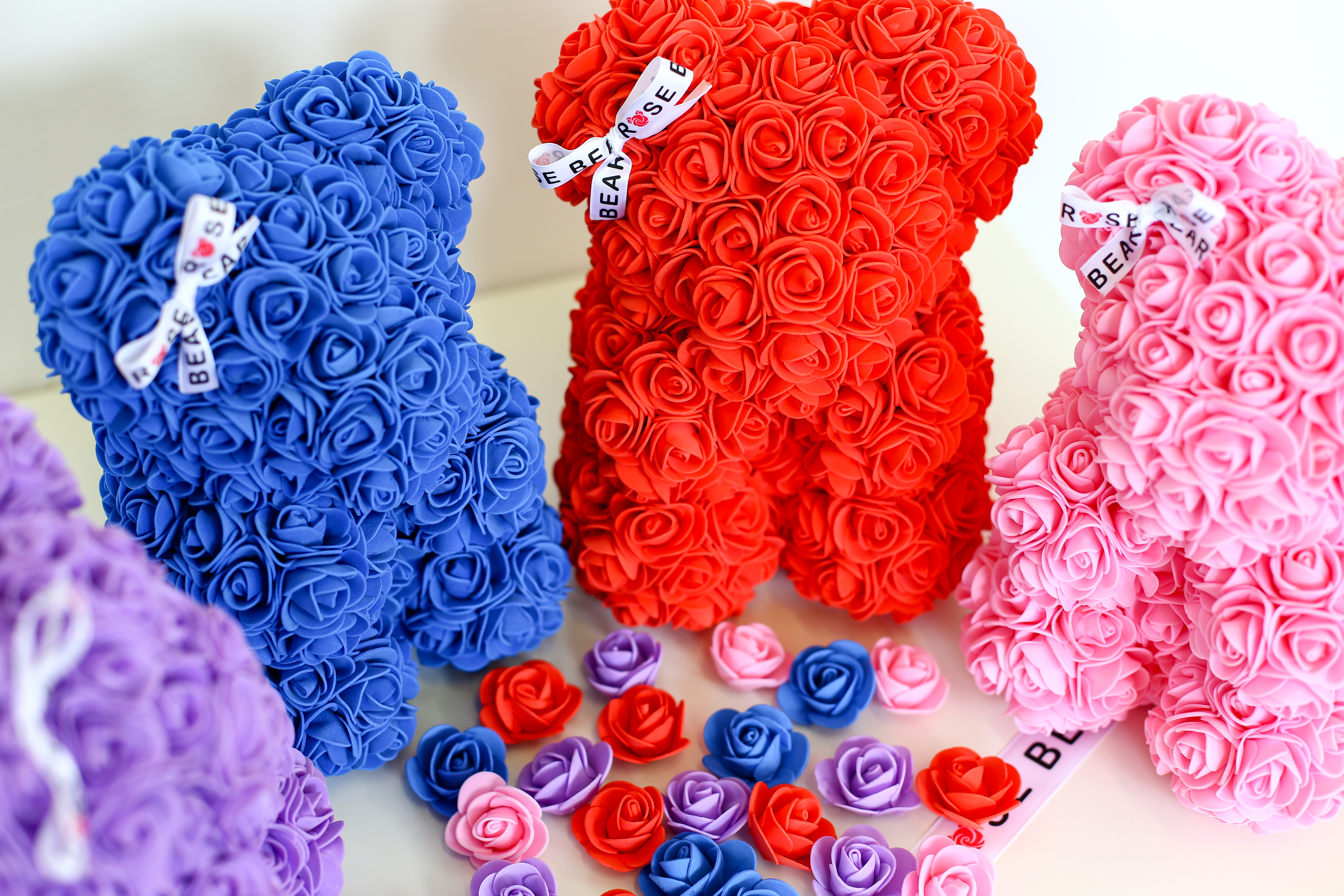 Be different next time your gifting with our limited edition rose bears, Only at petales de rose sydney. 
The life of the bear can last anywhere up to years.
To keep the rose bear in the best condition, store the rose bear in moderate room temperature to avoid build up of  dust. Any extreme temperature, either too hot or too cold can impact the synthetic material and reduce longevity. Avoid touching water or direct sunlight as this can cause discoloration.
Take good care of your bear and it will be an everlasting rose.
Please note - These bears are very delicate and fragile. Petales does not guarantee any petals falling off the bears If any petales have fallen off the bear during delivery please simply re glue them on the bears.
** THE BOX IS INCLUDED ** 
 Rose bears are made from foam and are not real roses.
Enjoy 50% off this introductory offer!
Valentine's Day is fast approaching ..
The Valentine's Day bear in artificial roses is handmade, it is the ideal and most viral gift of 2019
The best gift for Valentine's Day, Christmas, birthdays, weddings or any other occasions that deserve such a unique and precious gift.
Our bears in roses is the ideal gift idea and the symbol of sophistication and timeless love.
Our craftsmen are dedicated to the pursuit of excellence and ensure that these cubs are handcrafted with quality materials.
Give to the being that you love a gift made of roses that will last forever!
A beautiful and cute decorative teddy bear composed of sweet synthetic roses with romantic colors.
The perfect gift that will look great in the home or office of your loved one.
Made with roses, these custom-made bears last a lifetime without any care!
Watch as your loved ones glow with joy as they receive their own handmade teddy bear.
FREQUENTLY ASKED QUESTIONS:
How long do the flowers last?
Forever. The flowers are made of moss and do not fade or lose their shape.
How is it done?
Using a polystyrene mold of a bear, each foam rose is hand-made and glued one by one by hand for a homogeneous and harmonious look