The Body, an essential of the lingerie!
TRENDS AND NOVELTIES
The Body lingerie to enhance your silhouette

The Lingerie Reinvents Itself With The Return Of The Body Which Has Its Place In All Women's Closets. This Lingerie One Piece Version With Sexy Effects Will Enhance The Silhouette Of Each. Flatten Small Bellies, Hide Small Defects, Enhance All Types Of Breasts ... What Great Benefits To Wear A Body In Lingerie Version! Ultra-Feminine, It Goes To All Women.

A Shaping Effect To Enhance The Shapes, The Body Enhances Femininity But Will Also Have A Winning Effect, That Everyone Will Appreciate To Wear Under A Dress...
A touch of spice in her lingerie with the bodystocking
To Surprise Your Partner By Changing From Traditional Bra and Panty Combo, The Body Has All The Assets To Feel Beautiful And Sexy. With a body in your wardrobe, you will have the accessory that will spice up your daily life.
With Sexy Bodys Close to the Body.
Several Models To Vary The Effects And The Envies. In Triangle Version With Adjustable Straps Or In Bustier Version, The Lingerie Collection Declines All Its Subtleties.
Those who are looking for support will fall for the different Triangle Body Styles. To reinforce this support, the models are equipped with breast clips and provide unparalleled comfort. With Its Swimming Back, the Triangle Body will go unnoticed under a Tank Top. This model will blend with elegance under your clothes during the day to sparkle at night.
Thanks to its adjustable straps, the body adapts to all body types. As far as fabrics are concerned, the brand likes to play with transparency, revealing the most beautiful assets of your femininity. Black, Nude, With Golden Or White Straps Or Playing On Contrast With Silver... Chic Is Always On The Date.
With a Sexy Lingerie And Always Comfortable. The Bustier Body Does Not Lose The Assets Side Maintenance Of The Chest Because To Be Sexy Or But With All The Comfort Possible. This Bustier Version will be able to blend under all the dresses of your wardrobe and its neckline will add even more charm to your outfit. In this version the straps are removable to keep the choice of your outfit according to your desires.  White or black, we always bet on transparency for a chic and sexy side in a body.
How to Wear It: Bodysuits
What is a Bodysuit and Why Do I Want to Wear One?

Bodysuits are one-piece garments, similar to a leotard or one-piece bathing suit, that come in a range of styles from long-sleeved and blousey to spaghetti strapped and skintight.
How Do I Wear a Bodysuit?

Bodysuits can be worn with jeans, pants, skirts, and shorts – any bottom you can think of, you can probably wear it with a bodysuit. Bodysuit outfits can range from casual to professional to glam and sexy.
 Discover the world of plus size lingerie on womensbodysuit.com
Here's how stars wear lingerie to go out
Fine materials, crocheted yokes, lace finishes worthy of the most beautiful workshops... More than underwear, lingerie is a true art. Rather than remaining hidden, this unconditional fan of our wardrobe is revealed, under a blazer, all in transparency, sporty or suggestive version, it becomes the centerpiece of a look to go out. The underwear takes a step forward and no longer remains under the clothes, proof with the stars who display their outfits upside down.
Khloé Kardashian Proves She Can Rock a Nude Bodysuit Better Than Anyone
Kylie Jenner
 and Kim Kardashian impact on body suit 
THE LINGERIE IN TOTAL NIGHT LOOK FOR RIHANNA
THE BUSTIER COMBINED WITH JEANS FOR TAYLOR HILL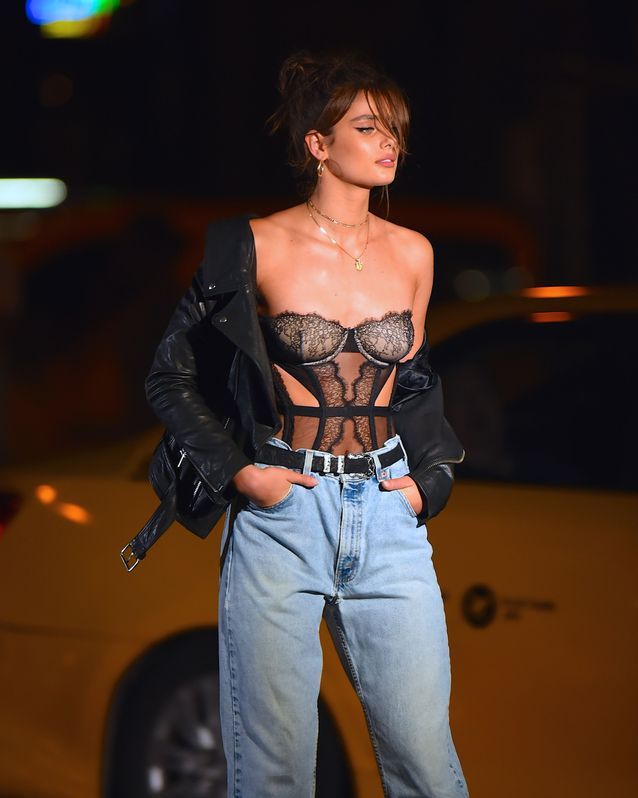 JUST DROPPED HOSIERY · BODYSUITS · COTTON · SHAPEWEAR · PANTIES · bras · NEW 
ESSENTIALS
 · Shape enhancing, solution focused 
underwear
,
Here is our selection of the best brands we have found (for different budgets).
Tips for choosing the best lingerie
for your body type
It is very important to know how our body is to choose the clothes that best suits us but often we forget about the underwear and we do not look too much if the set favors us, to be comfortable and that fits well with the clothes we have chosen is enough for us. Choosing lingerie according to your body type allows you to enhance your virtues and hide the small defects to make the most of your curves and feel sexy and attractive.



Currently, the female body is classified according to 7 different body types. Clothing and lingerie are designed taking into account the characteristics of these body types, variations in volume and proportion within each type is worked with the sizes. All women are based on one of these shapes.




The most important thing is to know that all bodies are beautiful and attractive, all have their pros and cons and all can get the most out of them with the right clothes. Let's take a look at underwear according to your body type:

DIAMOND BODY LINGERIE
You have a diamond body if your body structure is small, with a narrow back and shoulders, small to medium chest and abdomen wider than the hips, with a poorly defined waist. Your legs, arms and neck are thin in relation to the rest of your body.




Bodysuits are a great bet because they shape the tummy area and draw attention away from the chest and legs. Babydolls also look great on you because they hide the entire belly area and end just above the hips. If you prefer to wear bras, opt for thin foam padded bras or even push up bras to give volume to the bust and combine it with high-waisted panties or even high girdles that accentuate your waist.



There are several celebrities with diamond body types, such as Kate Winslet, Queen Latifah or Kate Upton.


LINGERIE FOR HOURGLASS BODY

You have an hourglass body if your hips and chest are almost the same proportion and your waist is very pronounced. You look good in everything! You don't need to wear push-up bras because you are already proportionate. If you have a large chest, opt for bras with a wide strap to be much more comfortable.




You are lucky to have the perfect body so choosing lingerie according to your body type is easy because everything fits you. If you have a little tummy opt for high-waisted panties because they will stylize you more and help you to hide it.
There are several celebrities with hourglass bodies, such as Scarlett Johansson, Kim Kardashian or Sofia Vergara.
LINGERIE FOR APPLE, OVAL OR ROUND BODIES


If you have this body type, when you gain weight fat accumulates in your abdomen so you may have a waist a little wider than your hips. Your chest is large, with broad shoulders and a poorly defined waist. Your hips are narrow and your legs and arms are a little thinner.




Choose underwear that accentuates your curves by drawing attention away from the center of your body, such as a bodysuit or high-waisted panties that will help you keep everything in place. A corset will fit you perfectly and will also shape and accentuate your waist. You can also opt for a bra that fits your chest well such as full cup bras or reducing bras and you can combine it with a high girdle to help conceal the abdomen and be able to comfortably wear tight dresses. Avoid push-up bras, bras with padding and strapless bras because they emphasize your bust too much.



Some celebrities like Drew Barrymore, Jennifer Hudson and Catherine Zeta-Jones have an apple body type.
LINGERIE FOR RECTANGLE OR SQUARE BODIES
You have a rectangle body if your abdomen, hips and chest are proportionate, that is, they are approximately the same width. This is the most common of all body types.




Choose undergarments that break that proportion: Push-up bras will add curves and lift your bust, balconette bras and padded bras will also flatter you. Hip panties, thongs or culottes and shorts with ruffles or belt effect will give visual volume to your hips, enhancing your curves. Don't wear panties that flatten your buttocks because the goal is to enhance your curves.



Jessica Alba, Zoe Saldaña, Kate Middleton, Gwyneth Paltrow or Keira Knightley have rectangular bodies.
LINGERIE CORPS POIRE
Vous avez un corps en forme de poire si vos épaules et votre dos sont étroits, votre taille est définie et s'évase pour rejoindre vos hanches, qui sont plus larges que vos épaules. Ce type de corps a tendance à accumuler la graisse dans les hanches et le haut des cuisses, avec des fesses bien définies et proportionnées.




Ce type de corps peut être confondu avec le corps en diamant, la différence étant que le corps en poire a plus de volume dans la zone des hanches et des fesses alors que le volume du corps en diamant est concentré dans l'abdomen, au-dessus des hanches.



Profitez de votre silhouette pour mettre en valeur vos épaules, optez pour des soutiens-gorge qui donnent du volume à votre poitrine, comme les soutiens-gorge push-up, les soutiens-gorge sans bretelles, les soutiens-gorge avec des bretelles au niveau du cou (décolleté licou) ou les soutiens-gorge à balconnets. Et s'ils ont beaucoup de fantaisie, c'est encore mieux. Portez des bas de bikini à taille moyenne ou basse avec une coupe haute sur les jambes pour allonger optiquement votre torse et vous faire paraître plus équilibrée. Vous pouvez également opter pour une culotte basique à taille haute qui allongera visuellement vos jambes.



Beyoncé, Jennifer Lopez et Jennifer Hewit ont des corps en forme de poire.
LINGERIE FOR INVERTED TRIANGLE BODY
Your body is inverted triangle if your shoulders are wider than your hips or if you have very pronounced shoulders and a low hip. The goal is to give visual volume to the hips, you can use culottes and low-waisted shorts, lace panties or ruffles. Opt for triangle bras, with deep neckline to reduce the visual volume of the shoulders like the PrimaDonna Twist a la Folie 0141127 bra or bras tied at the neck, in halter neckline like the Marie Jo Jane 0101336 bra. Avoid straight straps and strapless bras.




Some celebrities with inverted triangle body types are: Eva Longoria, jessica Simpson, Pamela Anderson and Demi Moore.
LINGERIE FOR TRIANGLE BODY


You have a triangle body if you have narrow shoulders and back, a well-defined waist and hips wider than your shoulders. A triangle body is narrower than a pear body (less curvy).




To enhance your silhouette choose bras that give visual volume, such as push up bras, a strapless with foam cups like the Simone Pérèle Delice 12X300 bra, triangle bras or balconette bras like the Marie Jo Avero 0100419 bra. Wear small and low-waisted panties, Brazilian knickers and thongs. Avoid high-waisted shorts, panties and culottes because they will add more volume to your hips.



Rihanna, Alicia Keys, Kristin Davis or Shakira have a triangle body.
Keep in mind that these are just tips that can help you highlight the best of you when choosing your underwear set, both for day to day and for special occasions. There are no rules or standards, every woman has a unique and different body so it is basic to be daring and try different cuts and finishes. With these tips we just want to give you a guide to know where to start choosing underwear according to your body type.
Here is our selection of lingerie adapted to your morphology.
---