25 SUBLIME BODYSUITS FOR YOUR EVENING WEAR
Hello, rescue style?

We are actively looking for THE piece able to sublimate us for an evening.

Detail not to forget: We want to be sexy, but not vulgar, and especially sophisticated.

Objective: find the piece that we do not see everywhere worn and that gives us a look to crunch.

Something to suggest?

Of course, the bodysuit!
Nightwear certainly, but certainly not for sleeping, the bodysuit has become THE piece for a dressy outfit.

Chic and sexy, the bodysuit is exiled from its qualifiers. Not wanting to be only assimilated to the sexy lingerie, the bodysuit is converted. In the form of a blouse, halter top or notched, the bodysuit appropriates models of day to better glorify you, once the night falls.

Playing sometimes on the effect of trompe l'oeil, thanks to its studied imitations, the bodysuit knew completely exile of its strong intimacy. Nevertheless, it is also the opportunity to appropriate its subtle side stripped to glamorize any evening dress. Lace, transparency and underlined anatomy are the strong point of this piece with tenfold charms.


Enjoy,

Girl Scouts
LET'S SHOP !
Tags : party
The Body, an essential of the lingerie!
TRENDS AND NOVELTIES
The Body lingerie to enhance your silhouette

The Lingerie Reinvents Itself With The Return Of The Body Which Has Its Place In All Women's Closets. This Lingerie One Piece Version With Sexy Effects Will Enhance The Silhouette Of Each. Flatten Small Bellies, Hide Small Defects, Enhance All Types Of Breasts ... What Great Benefits To Wear A Body In Lingerie Version! Ultra-Feminine, It Goes To All Women.

A Shaping Effect To Enhance The Shapes, The Body Enhances Femininity But Will Also Have A Winning Effect, That Everyone Will Appreciate To Wear Under A Dress...
A touch of spice in her lingerie with the bodystocking
To Surprise Your Partner By Changing From Traditional Bra and Panty Combo, The Body Has All The Assets To Feel Beautiful And Sexy. With a body in your wardrobe, you will have the accessory that will spice up your daily life.
With Sexy Bodys Close to the Body.
Several Models To Vary The Effects And The Envies. In Triangle Version With Adjustable Straps Or In Bustier Version, The Lingerie Collection Declines All Its Subtleties.
Those who are looking for support will fall for the different Triangle Body Styles. To reinforce this support, the models are equipped with breast clips and provide unparalleled comfort. With Its Swimming Back, the Triangle Body will go unnoticed under a Tank Top. This model will blend with elegance under your clothes during the day to sparkle at night.
Thanks to its adjustable straps, the body adapts to all body types. As far as fabrics are concerned, the brand likes to play with transparency, revealing the most beautiful assets of your femininity. Black, Nude, With Golden Or White Straps Or Playing On Contrast With Silver... Chic Is Always On The Date.
With a Sexy Lingerie And Always Comfortable. The Bustier Body Does Not Lose The Assets Side Maintenance Of The Chest Because To Be Sexy Or But With All The Comfort Possible. This Bustier Version will be able to blend under all the dresses of your wardrobe and its neckline will add even more charm to your outfit. In this version the straps are removable to keep the choice of your outfit according to your desires.  White or black, we always bet on transparency for a chic and sexy side in a body.
How to Wear It: Bodysuits
What is a Bodysuit and Why Do I Want to Wear One?

Bodysuits are one-piece garments, similar to a leotard or one-piece bathing suit, that come in a range of styles from long-sleeved and blousey to spaghetti strapped and skintight.
How Do I Wear a Bodysuit?

Bodysuits can be worn with jeans, pants, skirts, and shorts – any bottom you can think of, you can probably wear it with a bodysuit. Bodysuit outfits can range from casual to professional to glam and sexy.
 Discover the world of plus size lingerie on womensbodysuit.com
Here's how stars wear lingerie to go out
Fine materials, crocheted yokes, lace finishes worthy of the most beautiful workshops... More than underwear, lingerie is a true art. Rather than remaining hidden, this unconditional fan of our wardrobe is revealed, under a blazer, all in transparency, sporty or suggestive version, it becomes the centerpiece of a look to go out. The underwear takes a step forward and no longer remains under the clothes, proof with the stars who display their outfits upside down.
Khloé Kardashian Proves She Can Rock a Nude Bodysuit Better Than Anyone
Kylie Jenner
 and Kim Kardashian impact on body suit 
THE LINGERIE IN TOTAL NIGHT LOOK FOR RIHANNA
THE BUSTIER COMBINED WITH JEANS FOR TAYLOR HILL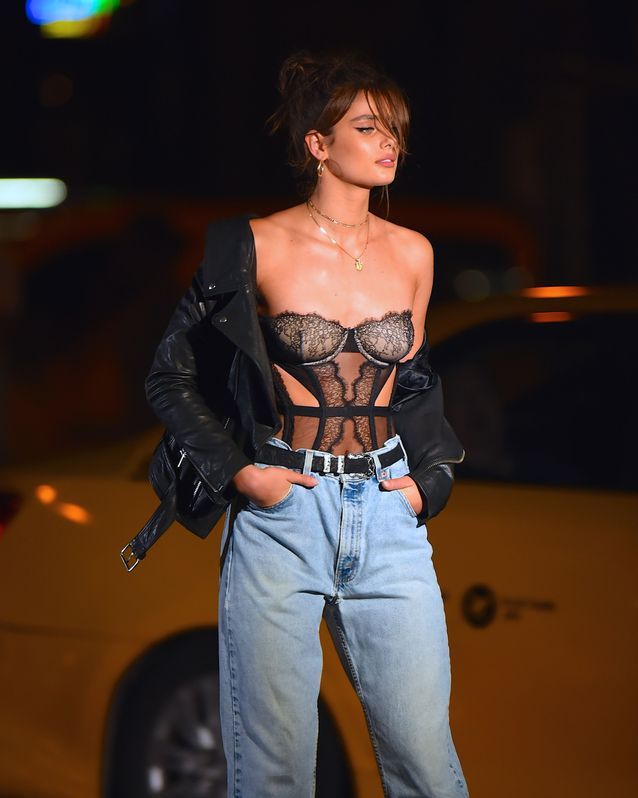 JUST DROPPED HOSIERY · BODYSUITS · COTTON · SHAPEWEAR · PANTIES · bras · NEW 
ESSENTIALS
 · Shape enhancing, solution focused 
underwear
,
Here is our selection of the best brands we have found (for different budgets).
How to choose your mismatched lingerie?
Sure, you can mix and match the underwear you already own. But if you feel like shopping, go to the store!
To choose your bra and stockings, it's best to stay in the same style. For example, avoid the very chic lace bra with sporty cotton panties. The effect is not necessarily flattering.
On the other hand, you can mix colors and prints as much as you want.
If you want to wear a skin-colored invisible bra, you can combine it with a burgundy, black or sky blue stocking.

For a very vitaminic look, especially in summer, you can wear associated colors: pink, yellow or orange, for example.

On the printed side, you have to respect the same fashion rules of the mix'n'match. Dots, flowers and stripes mix very well together if the colors match.
The bodysuit is at the heart of the current trend. This piece of lingerie has become an essential part of your wardrobe. Generally, it is worn under clothes, but the refinement and finesse of some bodies make you want to show it. The bodysuit is not quite an underwear, nor quite a garment and raises many questions:


RECOMMANDED PRODUCTS
LINGERIE FOR PARTIES
Today I'm coming back to you to show you some articles that La Halle sent me for Valentine's Day. This year with my trip to Mexico, I didn't have time to concoct a selection of gift ideas for her and even less for him but the reception of this package allows me to offer you a small article about Valentine's Day. Personally, I'm not hyper fan of this holiday a little too commercial
That's why I have never found any interest in spending miles and cents for this occasion. In this article you will find a gift idea for her AND for him! Ahah simple: you wear beautiful lingerie after a romantic dinner: gift for him
Him: you offer a sexy lingerie set at a low price to your sweetheart: gift for her!
More seriously, the brand sent me a small package with some pieces of the collection specially released for Valentine's Day and I made some pictures of these pieces. I wasn't going to put everything on Insta so here is an article dedicated to them.
In all honesty, I have a huge crush on both bodies. I find them easy to wear. I find them sexy but not vulgar and above all of a very nice quality. For those who have the possibility, I invite you to go to the store to discover the quality yourself. I particularly love the bodysuit without shell with plunging neckline which is displayed at the price
Nevertheless, even if I'm generally less fan of shells, I must admit that I literally fell in love with this model with a mix of lace and plumetis with a nicely worked back at 29,99€. For the others, who like me, don't have a store close to their home and that you want to order, know that at the moment there is -30% on your favorite piece (until 14/02).
I also received a black kimono with lace yokes at 24,99€, very easy to wear out of bed everyday and a red set. Personally, I don't like this color mixed with black but if you are interested, this set is available here at 19,99€ for the top and 8,99€ for the bottom.
PRODUCT RECOMMANDED
THE BODY, AN ESSENTIAL OF THE LINGERIE! HOW TO WEAR THE BODYSUIT?
The bodysuit is a fashionable underwear. It occupies today a place among the essential items in the women's lingerie collection. Every woman should have a sober or sexy model in her wardrobe.
Given its primary function (underwear), the body is intended to slip under your clothes. But thanks to the incredible evolution and progress in the lingerie fashion industry, the body has become an underwear that you can proudly display. This lingerie made more and more beautiful, seductive and glamorous, makes some women want to wear it as a Top or other. Hiding it is no longer the order of the day.
One can indeed say that the women's body is half underwear and half clothing. The double nature of use of this lingerie, causes in the women several questionings: some wonder if the body is made for them and some wonder if this leotard is not too daring, too sexy and does not expose too much their physique. The rest of the women would like to know how to combine or associate the bodysuit with their different outfits. Good news!! Team Sublim Curve gives you a little Topo/Tips to wear your body with elegance.
SOME ADVICE TO TAKE INTO ACCOUNT
Choose your women's bodysuit with your body shape as your first criterion. Keep in mind that the beauty of your lingerie piece is not everything. A body that fits perfectly to your body, brings out all your femininity accompanied by all the sensuality and sex appeal that you can release. Want some good news? Yes, there is a model of body, for every type of woman, ready to divinely magnify their silhouette. Don't hesitate to adopt a Sublim look!
A WOMAN'S BODY FOR EACH ONE
This statement will certainly surprise many people, but as we just told you, the body can be used by everyone !!! It is true that the body is first of all a tight lingerie. This could be a nuisance for women with some small physical defects. Focusing on bulges or other unsightly parts of their body would be to their disadvantage.
Be reassured, the incipient and recognized progress in the world of the sculpting lingerie makes it possible today, to propose to these women, models answering their expectations. The sheathing body is your ally to mask your curves and sublimate your curves. It comes in several shapes and colors and has options such as: long sleeves, boat neck, turtleneck, maxi body neckline ... In short, all women find their happiness in the sculpting body.
Simple tight bodysuits are not recommended for women with an imposing physique and very expressive shapes. The option of close-fitting bodies with a bloué effect will delight these women.

Bodies equipped with frills are to be put aside for women with a very pronounced shoulder circumference.

To avoid vulgarity, the body with maxi neckline option would only be suitable for women with less developed breasts. For the sake of presentation and design, the bodysuit with a neckline in the back should be worn without a bra. Transparent bodies, V-neck, as many options available.

The long-sleeved bodysuit is ideal for women who are complexed by the shape of their arms. Alternatively, they can also add a masculine jacket.
---